Danny Care guilty of drink-driving on New Year's Day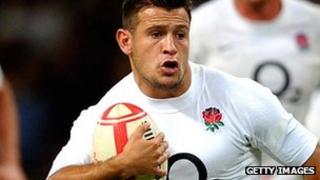 England rugby player Danny Care has been fined a total of £3,100 and banned from driving for 16 months after pleading guilty to drinking and driving in the early hours of New Year's Day.
The Harlequins scrum-half was stopped by police at Winchester services on the M3 in Hampshire in the early hours of 1 January, the court heard.
The 25-year-old was excluded from the Six Nations squad after the incident.
Three weeks before, he was fined by police for being drunk and disorderly.
On New Year's Eve, hours before his arrest, Care tweeted: "2012 is hopefully going to be a massive year... Earn respect. Earn the shirt. Set the example."
Care pleaded guilty to the offence of driving with excess alcohol.
Care 'devastated'
Southampton Magistrates' Court heard that a breath test showed he had 77mg of alcohol in 100ml of breath, more than twice the legal limit of 35mg.
Care did not comment as he left court but after his arrest he said he was "devastated" not to have been selected for the Six Nations as he felt he had been playing "near the top of his game".
Care made his England debut in 2008 but missed the World Cup through injury.
The court heard that Care already had three points on his licence for texting on his mobile phone while driving and six points for speeding.
Derek Lott, chairman of the magistrates' panel, told Care that they had reduced his fine from £5,000 because of his guilty plea.
Care was also fined £10,000 by Harlequins over the incident and will be required to work on its inner-city coaching programme until the end of pre-season 2012/13.