Isle of Wight dog destroyed after killing puppy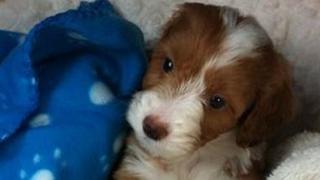 A dog which killed a puppy on a beach on the Isle of Wight has been put down, police have confirmed.
Kate Nutbourne was walking her 12-week-old cockapoo Charlie on Appley beach when it was attacked by a Staffordshire bull terrier on Wednesday afternoon.
She said the owner of the two-year-old dog was standing close by and had refused to put his animal on a lead.
Police said the dog was later surrendered by its owners and destroyed.
Describing the attack, Ms Nutbourne, 19, said: "All of a sudden it went for him, crushed his skull, shook him like a rabbit and broke his neck."
Insp Kelvin Shipp, from Ryde police, said: "I have visited the puppy's owners and they are happy with our actions.
"We have been actively pursuing lines of inquiry since Wednesday and our inquiries are continuing to establish if any further offences have been committed."
Remembering the moment Charlie was killed, Ms Nutbourne said: "I have a mental block, all I remember was screaming a lot."