Portsmouth paedophile ring members sentenced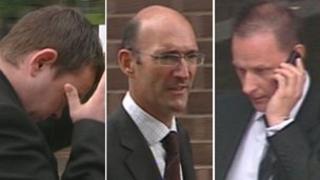 Three men who were part of an international paedophile ring have been sentenced for child sex offences.
Mark Day, 45, of Kent, serving soldier Daniel Bell, 27, of Hampshire, and John Maddox, 47, of Essex, received their sentences at Portsmouth Crown Court.
The ring was run by Robert Hathaway and Melissa Noon, of Portsmouth, who were jailed in December.
The couple set up a nudist forum website as a front for the sex abuse of two children aged under 13.
Father-of-two Mark Day, 45, of Whitefriars Meadow, Sandwich, Kent, was jailed for three years for one charge of arranging a child sex offence.
Soldier Daniel Bell, 27, who lives in military accommodation but was previously of St James Road, Emsworth, Hampshire, was given a four-month prison sentence, suspended for a year, for attempting to distribute an indecent image of children.
He was also given concurrent sentences of one month in prison, suspended for a year, for each of two charges of possessing indecent photos of children.
The court heard that it was a "matter of discretion" for Bell's commanding officer whether he would keep his position in the army.
John Maddox, 47, of Ellis Avenue, Rainham, Essex, a carer for his disabled sister and elderly mother and who works as a volunteer for a hospice, was sentenced to two-and-a-half years' imprisonment for one charge of causing a child to engage in sexual activity.
He also received concurrent sentences of two months' imprisonment for two charges of possessing indecent photographs of children.
'Mirror image'
The three had all made contact with Hathaway over the internet using emails and chat logs.
Hathaway, 37, admitted 45 charges including rape and was given an indeterminate sentence in December. Noon, 30, was jailed for four years.
Over a period of two years, the couple used their website to distribute photos and videos of children being abused.
The network was discovered by Hampshire police after a tip-off from Australian officers who had uncovered a "mirror image" child abuse ring in Brisbane and Sydney.
Officers seized 14,000 indecent images of children and 300 videos of children being abused.
Speaking after the trial, Det Insp Victoria Dennis, senior investigating officer, described it as "one of the most horrific incidents of child abuse" she had ever investigated.
Hathaway and Noon used the internet to discuss the abuse of children with other defendants and arranged to meet some of them to carry out further sexual assaults on their victims.
Three other members of the ring were also sentenced in December.
Stephen Fraser, 42, of Hemingford Road, Cambridge, was sentenced to four years in jail with an extended licence period of six years; Simon Hilton, 29, of Wolsey Road, north London, was imprisoned for four years with an extended licence period of six years; and Lee Parson, 38, of Arundel Street, Portsmouth, was jailed for three years.
A ninth member of the ring is to be sentenced later this month.
All the defendants were ordered to sign the sex offenders register.