HMS Daring embarks on maiden deployment to Middle East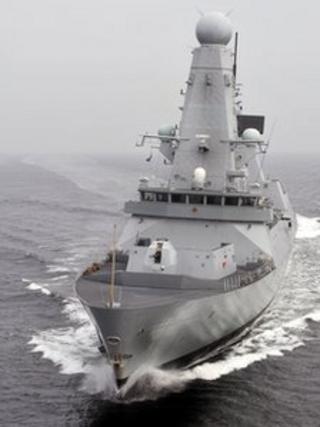 The largest and most powerful destroyer warship ever built for the Royal Navy has embarked on its maiden deployment.
HMS Daring is the first of six new Type 45 destroyers and left Portsmouth, Hampshire, on Wednesday for a seven-month mission to the Middle East.
Commanding officer Captain Guy Robinson said the ship was "a significant milestone" for the Royal Navy.
The Ministry of Defence (MoD) said Daring was "the first step towards delivering the fleet of the future".
The destroyer is equipped with an air defence system, which can track and destroy a target the size of a cricket ball travelling three times the speed of sound.
It has the ability to operate a range of helicopters from its flight deck and embark up to 60 troops in addition to its own ship's company, meaning it is a versatile asset that can support land forces and carry out humanitarian missions.
The ship, at 150m (500ft), has been said to be longer than 16 London buses and weighs 7,500 tonnes.
Since arriving at its home base in 2009, the ship has undertaken months of intensive sea trials.
Capt Robinson said: "The ship's company, and everyone who supports us ashore, have worked tirelessly over the last year to reach this point.
"We are now very much looking forward to the deployment where we can contribute to maritime security in the region as well as demonstrating Daring's broad capabilities to our allies."
Daring is one of six new Type 45 destroyers and was commissioned in July 2009, followed by HMS Dauntless and HMS Diamond.
HMS Dragon arrived at Portsmouth in September last year for sea readiness training.
All six, including HMS Defender and HMS Duncan, are scheduled to be in service by about 2015.