Lyndhurst church archaeological dig reveals medieval life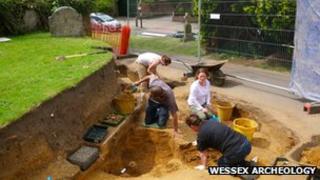 An archaeological dig at a Hampshire church has revealed clues about religious activity in medieval times.
The dig at St Michael and All Angels in Lyndhurst unearthed rare physical evidence of a 12th Century settlement in the town.
The investigation also dismissed a long-held local belief that the distinctive mound on which the church stands was man-made.
Nearly a quarter of the finds at the church have been described as medieval.
The excavation of the mound was carried out to allow a new driveway to be built to the church. It involved the removal of a 5ft (1.5m) deep and 16ft (5m) wide section of earth.
'Social status'
Frank Green, New Forest National Park Authority archaeologist, said: "While the archaeological evidence from the excavation was relatively small, it is a very significant range of material for Lyndhurst."
There was no archaeological investigation undertaken when the current church was built in the 1860s. However, it is known that it replaced one built in the 1760s.
Records also show there was a royal hunting lodge on the site of the current Queen's House, adjacent to the church, which had a chapel attached.
Mr Green said: "We didn't expect to find the remains of the early church as it is below the present building. However, there were over 350 shards of pottery found - jars and rims of jugs - and nearly a quarter were medieval.
The church's vicar, the Reverend Dr James Bruce, said: "We had documentary evidence of the chapel, but we didn't have any physical evidence until this point, so we're quite excited about that."
The investigation also found geological evidence to debunk local folklore that the distinctive mound was man-made, possibly an Iron Age burial mound.
Mr Bruce said: "As the dig went on, we found original sand that was very obviously naturally laid down. So we know for absolutely sure that it is not man-made.
"It's exciting to have the truth, but all the guidebooks will have to be rewritten."
As part of continuing improvement works, there are also plans to investigate beneath the church floor for other evidence of religious activity on the site. Volunteers completed the eight-week dig during the summer.