Jubilee Pageant: Boat order boost for Whitchurch firm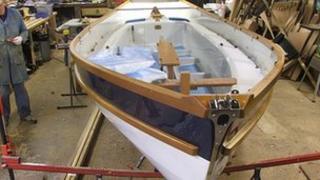 A family-run boatbuilders in Hampshire has been boosted by an order for two training yachts which will take part in the Queen's Jubilee celebrations.
Churchouse Boats, based in Whitchurch, is building two 25ft Drascombe sailing boats for the London Nautical School.
They will take part in the Diamond Jubilee River Pageant along the Thames in June 2012.
Company director Stewart Brown said: "I love these boats and just to see them on the Thames will be great."
The order, worth about £50,000, provides three months work for the company at a time when Mr Brown says customers are lacking the confidence to make large purchases.
At its height, the company employed 10 boat builders, now that is down to three full-time staff.
'Big boys' toys'
"The credit crunch hit us very badly. In 2008 we were building boats like it was going out of fashion."
"I don't think we'll ever get back to the size we were pre-credit crunch. Times are hard for our sector.
"We have had to cut back very hard, lay off good, skilled people and become 'lean & mean',
"Boats are big boys' toys - a lot of people may want a boat, but very few people need a boat," added Mr Brown.
Nevertheless, the publicity and kudos from having boats in the flotilla of 1,000 vessels marking the Queen's 60-year reign should give the company a much needed fillip.
Mr Brown said: "I'm proud to be in manufacturing, there aren't many of us left. We produce using all-British bits, we import very little."
The yachts have modern fibreglass bodies but wood trim and three sails gives them a traditional look.
"They are impressive boats on the water so they will stand out on the Thames," he added.