Southampton cemetery vandalism blamed on 'new legal high'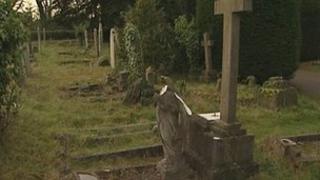 Vandalism at a Southampton cemetery could be evidence of a form of substance abuse new to the UK, according to a drugs charity.
It is thought teenagers misusing a legitimate feminine anti-inflammatory product damaged the Old Cemetery.
DrugScope said the product is available over the counter but its misuse can produce hallucinogenic effects.
Police said they were looking into allegations of possible drug or legal high use by those responsible.
Harry Shapiro of DrugScope said it was the first time the charity had heard of the gynaecological anti-inflammatory product being misused in the UK.
But he said there were reports of it being abused in Eastern Europe and Brazil.
Mr Shapiro said: "It produces visual hallucinations, people get confused, over-excited and agitated which would explain the vandalism. People could get themselves hurt and indulge in fairly mindless behaviour."
'Mindless vandalism'
The series of attacks on gravestones and memorials included damage to a well-known memorial to the crew of the Rhone.
The Southampton registered Steam Packet Ship was wrecked off the British Virgin Islands in 1867 with the loss of more than 120 lives, many of whom were connected to or came from Southampton.
The vandals smashed the monument on 29 October - the exact 145th anniversary of the tragedy.
Gillie Dunkanson of the Friends of Southampton Common volunteer group said: "It was just mindless vandalism, the people buried here have served their country and done so much for Southampton."
Hampshire police said some product packaging had been recovered from the cemetery and taken away by officers.
A statement said: "We are well aware of the vandalism in the old cemetery that has been happening and officers from our Safer Neighbourhoods Team are carrying out regular patrols in the area as a deterrent.
"We would like to reassure people we will take action against anyone that we have evidence is causing vandalism in the cemetery, whatever the cause."