MBEs for Hampshire disability sport ambassadors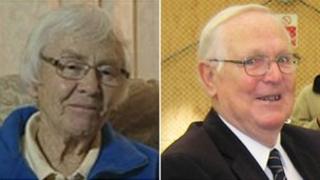 Two disability sport ambassadors from Hampshire have been appointed MBEs in the New Year Honours.
Jeff Levick, 74, from Winchester, has been recognised for services to disability cricket. He helps coach more than 1,000 players a year in Hampshire.
Rosemary Morrison, 73, from Ringwood, volunteers at New Forest and District Sailability and has been recognised for services to disabled sailing.
Mr Levick said he was "amazed", while Mrs Morrison said she was "shocked".
'Fairy story'
Mr Levick began working with cricket players with learning and physical disabilities, and visual and hearing impairments in 1997.
He said: "They really are the same as everyone else and deserve every opportunity they can get."
He added: "I am amazed and delighted at being made an MBE."
Since Mrs Morrison, known as "Rory", became sailing captain at New Forest and District Sailability in 2002, she has recruited and trained 80 new volunteers.
On being appointed MBE, she said: "I was shocked - I really didn't believe it for a very long time. It's like a fairy story."
Sue Sheward, from Leatherhead, Surrey, is founder of the charity Orangutan Appeal UK, based in Brockenhurst, and is appointed MBE for services to the endangered primates of Asia.
Peter Crook, group manager of Hampshire Fire and Rescue Service, who also co-ordinated the UK International Search and Rescue (ISAR) team following the earthquake and tsunami in Japan in March, has been awarded the Queen's Fire Service Medal (QFSM).
Other people from Hampshire and Isle of Wight who received honours include:
CBE
Jennifer Hutton, from Basingstoke, deputy director of Cabinet Office.
James Lupton, from Alresford, formerly chairman of board of trustees for Dulwich Picture Gallery, for services to the Arts and Philanthropy.
Martina Milburn, from Fleet, chief executive of The Prince's Trust, for services to charity.
Professor Judith Petts, from Stockbridge, formerly a member of the Royal Commission on Environmental Pollution, for services to scientific research.
Professor Philip Sutton, from Fareham, formerly director of science and technology strategy at the Ministry of Defence.
Julia Wood, from Alton, formerly deputy director of pensions in the Cabinet Office.
OBE
Andrew Colver, from Fleet, head of democractic services at Rushmoor Borough Council, for services to Local Government.
Nina Curley, from Fleet, team leader of the private office correspondence team for the Department for Education.
Professor Thomas Foulkes, from Fleet, formerly director general of the Institution of Civil Engineers, for services to engineering.
Dr Martin Fowler, from Winchester, Grade B2 at the Ministry of Defence.
Keith Milburn, from Fleet, head of court business delivery for the Crown Prosecution Service.
Eileen Monks, from Sandown, director of the Isle of Wight Youth Trust, for services to young people.
Margaret Paren, from Liss, chair of South Downs National Park Authority, for services to the environment.
Dr Miranda Stevenson, director of the British and Irish Association of Zoos and Aquariums, for services to Wildlife Conservation.
Philip Watts, from Eastleigh, head of corporate office for Ordnance Survey, Department for Business, Innovation and Skills.
MBE
Dr Anthony Acland, from Southampton, director of the AimHigher Hampshire and Isle of Wight Partnership, for services to Higher Education.
Paul Arnold, senior project manager for the Highways Agency, Department for Transport.
Donald Bailey, from Petersfield, for charitable service.
Keith Brown, from Andover, shift supervisor at FB Heliservices Ltd, for services to the defence industry.
John Davis, from Lymington, volunteer and campaigner for diabetic pump use in Hampshire, for services to people suffering from diabetes.
Mary Doyle, from Totland Bay, foster carer and adoptive parent, for services to children and families.
Beryl Hodgson, from Romsey, chief officer of the special constabulary for Hampshire Constabulary, for services to the police and the community.
Peter Hollins, from Gosport, for voluntary service to the Royal Naval Museum.
Eileen Jayne-Wood, fundraiser at The Rowans Hospice and founder and group travel organiser of Portsdown Travel, Portsmouth, for charitable services.
Alison Lewis, from Andover, Grade C2 at the Ministry of Defence.
Malcolm Parkinson, from Sway, chair of Capel Manor College in Enfield, Middlesex, for services to further education.
Vernon Petherick, from Waterlooville, chair of governors at Crookhorn Technology College, Waterlooville, for services to education.
Lady Anne Stoneham of Droxford, trustee of UK Youth and member of the Avon Tyrrell Trust, for services to young people.
Vincent Wedlock-Ward, projects officer for the Southern Housing Group, for services to disadvantaged households and the environment.
Wendy Wood, from Southampton, policy lead for the Coastguard Rescue Service Project, Department for Transport.