Southampton priest tells of fight at midnight Mass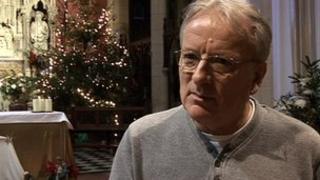 A priest has described how a fight broke out at the back of a Southampton Roman Catholic church during Midnight Mass on Christmas Eve.
Monsignor Vincent Harvey said he had just finished his sermon in a packed St Edmonds Church on The Avenue when he heard raised voices.
"I was aware of an almighty fight going on, and a panic among the congregation," he said.
Three men were later arrested on suspicion of affray.
They were bailed until 30 December pending further inquiries.
'Very rare occurrence'
Fr Vincent said he left the area of the altar when the disturbance broke out and was told by members of the 350-strong congregation not to go any closer to the back of the church.
"Heavy steel chairs were thrown which was an extremely dangerous situation.
"My main concern was for the safety of the congregation," he said.
Police said they were called shortly after 00:30 GMT and three men, aged 24, 27 and 31, from Southampton were all arrested at or near the church on suspicion of affray.
No-one was injured but many of the congregation were left shaken by the incident.
"Security is not normally an issue, this kind of incident is a very rare occurrence," added Fr Vincent.
After what he described as "a few minutes of calm", the service resumed.