Hart in Hampshire named as UK's most desirable place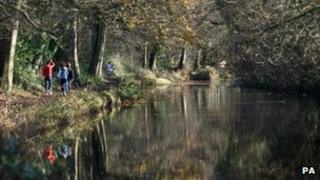 The Hampshire district of Hart has been named as the UK's most desirable place to live for quality of life.
The annual study by the Halifax bank took into account factors such as jobs, housing, health and crime as well as weather, traffic and broadband access.
The survey found that 95% of people in the local authority area of Hart were in good health and they tended to have incomes 40% above the national average.
No places in northern England, Scotland or Wales were in the top 50 locations.
Listed buildings
Wokingham, East Cambridgeshire, Brentwood, St Albans, Maidstone, South Cambridgeshire and Epsom and Ewell were all among the top 10 in the 2011 Quality of Life Survey.
Of the top 50 places, 27 were southern England and 15 were in eastern England.
The district of Hart is in north-east Hampshire and includes the towns of Fleet and Yateley.
The River Hart flows through the rural area which has 1,000 buildings listed as being of special architectural or historical interest and more than 30 conservation areas.
House prices
Halifax economist Martin Ellis said: "Residents of Hart benefit from a combination of above-average weekly earnings, a low crime rate and good health amongst other factors.
"On the other hand, average house prices in the area are amongst the highest relative to local earnings, highlighting that a high standard of living often comes at a price."
Hart replaces Elmbridge in Surrey, which has been named as the top location for the past three years.
The only places outside the south and east of England in the top 50 were Wychavon in Worcestershire, Rushcliffe in Nottingham, Rutland, and North Kesteven in Lincolnshire.
In Scotland, the most desirable place to live was named in a Bank of Scotland survey as the Shetland Islands, ousting Aberdeenshire from top spot.