Portsmouth paedophile ring couple jailed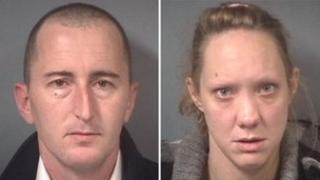 A Hampshire man and his partner who ran an international paedophile ring have been jailed for child sex offences.
Robert Hathaway, 37, and Melissa Noon, 30, of Portsmouth, set up a nudist forum website as a front for the sex abuse of two children aged under 13.
Hathaway admitted 45 charges including rape and was given an indeterminate sentence. Noon was jailed for four years.
Six other men have been convicted of, or have admitted to, sex offences.
The court heard how Noon and ringleader Hathaway, both of Tyseley Road, committed crimes involving two children in the UK and one in Australia.
Australian 'mirror image'
Hathaway's offences also included the sexual assault of a child and causing a child to engage in sexual activity.
Noon had denied 11 charges, including causing a child to engage in sexual activity, but was convicted at the end of a six-week trial in November for her part in the network. She admitted two other charges.
The couple used the internet to discuss the abuse of children with other defendants and arranged to meet some of them to carry out further sexual assaults on their victims.
Sentencing the group, Judge Roger Hetherington told Hathaway he would not be released from prison for a minimum of six years and after that not until the parole board deemed him no longer to be a danger to children.
The network was discovered by Hampshire police after a tip-off from Australian officers who had uncovered a "mirror image" child abuse ring in Brisbane and Sydney.
Officers seized thousands of images and videos of child abuse, including scenes of rape.
Over a period of two years, the couple used their website to distribute photos and videos of children being abused.
Judge Hetherington said: "This is a case about cruelty to two children, physical cruelty in the sense each was subjected to physical acts which had no place in ordinary childhood development.
"It was the systematic and continuous sexual abuse of the worst sort. It involved perpetrating against the children any conceivable sexual act."
'Very low intelligence'
Addressing Hathaway, he added: "I have no doubt you set the rules and enforced the regime.
"You took advantage of Noon's dependence on you and cajoled her into adopting the lifestyle you decided.
"You set out with ruthless determination to exploit these two innocent children you used as your sexual playthings but also for the gratification of various other men."
Speaking to Noon, he said clinical tests had shown she was of "very low intelligence" which "combined with your weak character made you vulnerable to manipulation by Hathaway."
Stephen Fraser, 42, of Hemingford Road, Cambridge, was sentenced to four years with an extended licence period of six years; Simon Hilton, 29, of Wolsey Road, north London, was imprisoned for four years with an extended licence period of six years; and Lee Parson, 38, of Arundel Street, Portsmouth, was jailed for three years.
Det Insp Victoria Dennis, senior investigating officer, said: "It is one of the most horrific incidents of child abuse I have ever investigated and revolved around what I can only describe as an international paedophile ring involving 35 suspects in total."
Fraser admitted 27 charges, including sexual assault of a child, and Parson pleaded guilty to five charges, including arranging a child sex offence.
Hilton admitted 12 charges and was convicted of arranging a child sex offence.
Three other men, Daniel Bell, Mark Day, and John Maddox were also found guilty of child sex offences at the same trial.
They will be sentenced next month.
All the defendants were ordered to sign the sex offenders register.