Jane Austen family books made digital for first time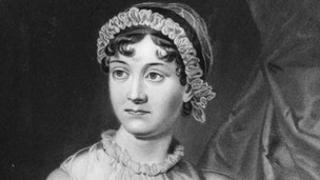 A collection of Jane Austen family books has been made digital for the first time for the general public to research.
Original material previously only available to scholars can now be freely viewed on computers at the Hampshire Record Office in Winchester.
Hampshire County Council said it "envisaged this will attract many new visitors to the record office".
Anyone interested can view the material by booking an appointment in advance.
The "rare and precious" material includes digital copies of eight music books known to have been enjoyed by the author, a manuscript verse book given to her sister Cassandra in 1837 and a notebook containing her niece Caroline's recollections.
The original copies have also been moved to the records office for "safe-keeping" after previously being held at the Jane Austen House Museum in Chawton, Hampshire.
They will be added to the record office's existing collection of Austen material, including Jane Austen's baptism, a fictitious entry in a marriage register - in her own hand, and material relating to the Austen-Leigh family, descendants of Jane's brother James.