Courtrooms facing digital battle with defence firms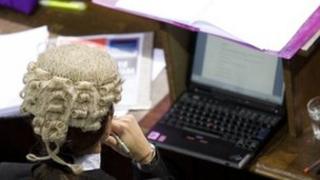 The traditional paper legal bundles used in every courtroom up and down the country could soon become a thing of the past, with tablet devices and laptop PCs taking their place.
The government believes the move into new technology will speed up cases and save money, with the entire criminal justice system set a target of April 2012 to go digital.
It will also see judges using tablet devices and "virtual courts" with defendants put before magistrates via videolink within hours of their arrest and charge.
But not everyone is welcoming the revolution, with defence firms threatening a boycott if they are not given help to buy the required equipment.
The move to paperless courtrooms has been led by the Crown Prosecution Service (CPS) Wessex region, which covers Hampshire, the Isle of Wight, Dorset and Wiltshire.
'Not co-operate'
Its prosecutors claim to have been the first in England to carry out a fully-digital trial with a two-day grievous bodily harm hearing at Winchester Crown Court in June.
Justice minister Nick Herbert, who earlier visited the CPS regional base in Eastleigh, Hampshire, said he believed it was the way forward.
He said: "The rest of the world has of course gone digital... and what we want to do is encourage the criminal justice system to take the same path.
"A police officer I talked to recently was spending a lot of time actually photocopying to prepare case files [but] in the future he will not have to do that so it releases time."
He also stressed sensitive information could be sent securely and encrypted through the same methods used within government departments.
The move to technology has also been welcomed by Hampshire's top police officer Chief Constable Alex Marshall who said it would help speed up the court process.
But concerns have been raised over the additional costs for defence teams.
A letter sent to the Director of Public Prosecutions by 30 of the country's largest criminal firms have threatened to boycott the scheme and continue to use paper unless concerns are addressed.
Franklin Sinclair, senior partner at Tuckers Solicitors, said he has already been told firms will have to soon accept prosecution disclosures by email.
'Sensible way'
He said: "We are totally committed to working more efficiently and using technology for this.
"But our major concern is that we are going to have to invest money that we haven't got into a system that once in place may not work anyway.
"If there is no money from them [the government] our position is if there are any cost implications to us then we will not co-operate."
But minister Mr Herbert made it clear during his visit there would be no financial help.
"If you are a government minister in any department at the moment you don't come armed with a cheque book... we are having to make savings.
"What we are saying to everyone is actually this is a way you are going to be able to save money in the future... and I think the defence community should look at it that way too.
"I am not in the business of ordering them [defence firms]; I think it's about a sensible way of working they are really going to want to be part of."