Barton Farm, Winchester, considered in new housing plan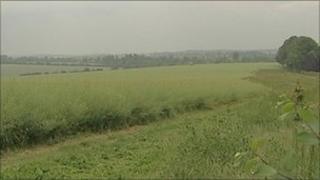 Campaigners who fought to stop a housing development on farmland on the edge of a Hampshire city have attacked plans to designate it for new homes.
In September, the government blocked plans by Carla Homes to build 2,000 new homes on a 230-acre site in Winchester - known as Barton Farm.
The land is now being considered for housing in the local plan discussed by Winchester City Council later.
The Save Barton Farm group said it "beggars belief".
'Preferred site'
The council said that while the specific application by Cala Homes was rejected, Barton Farm was still recognised as feasible for development.
It is designated as a "preferred site" for housing in the council's Core Strategy being debated by the full council, as part of the local requirement for 11,000 new homes to be built in the council area within the next two decades.
Gavin Blackman, of the Save Barton Farm group, said: "It beggars belief the council is considering putting Barton Farm back in the frame for housing."
He said the area's housing requirements could be met without building on the Barton Farm land.
The leader of Conservative-run Winchester City Council, Councillor George Beckett, said: "The truth is Barton Farm has been in the frame for development for over 20 years and I'm afraid the need might be proven this time.
"Quite honestly there is no way of dealing with this without upsetting someone.
Over-turned decision
"I acknowledge the fact it is part of the countryside, but there is an over-riding need - that has been established in the planning process many times. I feel for the people near Barton Farm but the responsibility of the council is to everybody in the district to develop a sound plan."
Cala Homes had wanted to develop the 230-acre site since the late 1990s.
Residents objected, calling it a "new suburb" and saying the city's roads, schools and services could not cope with so many new homes.
The council had voted against the plans and the communities secretary upheld that decision in September, following a public inquiry.
The planning inspector had recommended the plan for approval after the inquiry but minister Eric Pickles overturned the decision and concluded that the matter must be decided locally.