Submarine HMS Alliance used by composer Marvin Ayres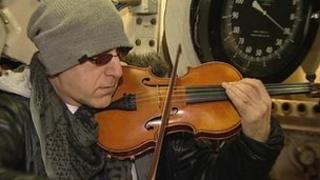 A composer has used a World War II submarine at a Hampshire museum to help create a new piece of music.
Marvin Ayres recorded sounds, echoes and reverberations on board HMS Alliance, based at the Royal Navy Submarine Museum, in Gosport.
The session was part of his Sacred Spaces project, making recordings in historical environments with different sonic characteristics.
Mr Ayres said: "It's ethereal and beautiful - beyond my expectations."
During his career as a composer, cellist and pianist, Mr Ayres has contributed to albums by bands including Culture Club, Simply Red, Frankie Goes to Hollywood.
'Tight space'
The Gosport recording saw the submarine wired with microphones to record Mr Ayres playing cellos, violins and violas.
Sound engineer Alex Sidell said: "It's fantastic and particularly unique because of the tight space and all the metal."
The team plans to record in other historical or derelict venues around the country, including Cornish tin mines and the former Orford Ness atomic weapons research site in Suffolk.
Mr Ayres said: "The idea is just to go into a space and to try to extract the spirituality and resonances inherent in the building."
It is hoped a piece of music will be compiled from the instruments and the echoes recorded in each environment, with an album available by the end of next year.
HMS Alliance is being restored as a memorial to submariners who gave their lives in military service.
It is listed in the UK's historic ship's register, alongside the Cutty Sark, the Mary Rose, and HMS Victory.