Building's partial collapse disrupts Southampton traffic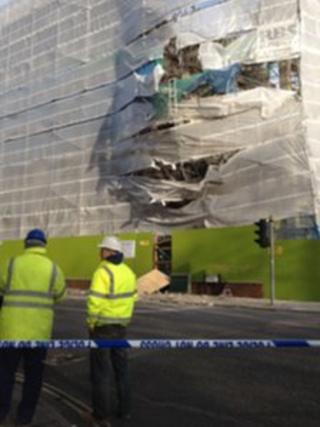 Part of a building that was being demolished has fallen into a Southampton city centre street.
Police were called at about 11.30 GMT following reports of rubble falling into Grosvenor Square.
The adjoining main Cumberland Place road is also likely to be closed in both directions for several hours, causing traffic disruption.
No-one was injured but police described the building as "quite unstable". It is being assessed by structural experts.
Eyewitness Sue Harrison, who was working in ground-floor office opposite the building, described hearing a "huge noise" and saw rubble falling on to cars.
"It just bulged out and all the masonry fell on the cars.
"Then our fire alarms went off and we all came out of our building."
Reporting from the scene, BBC reporter Melanie James said the rubble from the six-storey building was causing traffic problems from Bedford Place to the Polygon.
She said part of the building was hanging over the edge of the pavement "like the size of a car hanging precariously off the building".
She added the building next door was evacuated and the workers have not been allowed back in.
Southampton-based Wessex Demolition & Salvage, which is carrying out the work, said they do not want to comment at this time.