Southampton City Council proposes to cap redundancy pay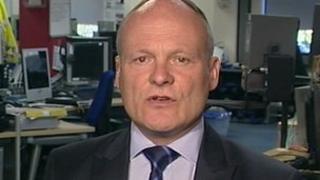 Southampton City Council is planning to cap staff redundancy payouts.
Keeping the current system would mean "making more people redundant just to fund the redundancy payments", council leader Royston Smith said. The council is trying to save £54m in three years.
Unison regional secretary Phil Wood said city council staff "are going to wonder what's happening to them".
Council staff have been on strike this year in a continuing dispute over changes to pay and conditions.
'More generous'
Mr Smith said: "We will be one of the few local authorities to cap redundancy payments in the future."
He added that the current scheme was more generous than the national statutory requirement.
The current council redundancy package is multiplied by a discretionary factor of 1.6 for compulsory redundancies and 2 for voluntary redundancies.
Under the new scheme the multiplying factors would be removed.
The maximum that would be paid out is £30,000.
If the proposals go ahead, the cap will be implemented on 1 April 2012.
The Conservative-led council will be consulting staff and union members until 20 January 2012.
Earlier this year, new contracts forced Southampton council workers earning more than £17,500 to take a pay cut of up to 5.5%.
Mr Wood said it was "good news" that the council was consulting with unions on capping redundancy, but said the proposals could make staff concerned for their future.
He said: "When you think that it was only 12 months ago that they were saying to people in Southampton 'if you take a reduction in pay it will help save your jobs', I think our members working in the city council are going to wonder what's happening to them."