HMS Victory at Portsmouth Dockyard in £16m restoration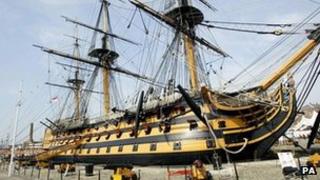 The warship used by Lord Nelson in the Battle of Trafalgar is to undergo a £16m restoration.
BAE Systems has been awarded a five-year contract to overhaul HMS Victory in a project that will preserve it for the coming decades.
Engineers have been carrying out maintenance work since July to prepare the 246-year-old vessel at Portsmouth Historic Dockyard for the renovation.
The masts, booms, rigging and other sections have already been removed.
The work will include installation of a fire suppression system, replacement of planking and repairs to the middle-gun deck.
Launched in 1765
The project is one of the most extensive restorations of the warship since it was damaged in the Battle of Trafalgar in 1805.
John O'Sullivan, BAE Systems project manager for HMS Victory, said: "This phase of restorative work is necessary to guarantee Victory's long term future and our project team are looking forward to getting started on the job of maintaining the ship for future generations to enjoy."
Work will be carried out in partnership with subcontractors Bell Rigging, of London, and Gloucester-based T Nielsen & Company, who will carry out traditional specialist shipwright work and joinery.
Work began to build HMS Victory in 1759 and the ship was launched from Chatham Dockyard in Kent in 1765.