100 firefighters tackle Basingstoke warehouse blaze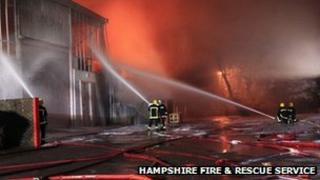 About 100 firefighters were called to tackle a blaze which destroyed a warehouse in Hampshire.
Crews were alerted to the fire at the industrial estate in Bessemer Road, Basingstoke, just after midnight.
Several liquified petroleum gas (LPG) cylinders exploded during the blaze, the fire service said.
As a precaution, residents were told to stay inside their homes and keep their doors and windows closed as the fire generated a large amount of smoke.
About half of the 65m (213ft) by 75m by (246ft) building was destroyed by the fire, which also spread to several nearby business units on the industrial estate.
Crews from Hampshire, Berkshire and Surrey fought the blaze using an aerial platform ladder, breathing apparatus, jets and a fan spray.
The fire service said an investigation was under way to confirm what had caused the fire and where it had started.