Wightlink ferry terminal in Lymington approved on appeal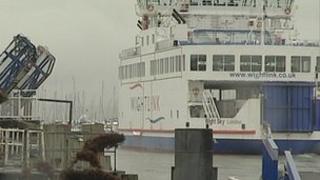 A new ferry terminal on the Hampshire coastline has been approved on appeal.
Wightlink has also been allowed to continue running larger ships on Lymington River after promising to "offset" the environmental impact.
Opponents said the ships were creating a bigger wash and were harming habitats in the Lymington River.
But following a public inquiry, the planning inspector agreed that a plan to dredge material from the river to replenish marshland was sufficient.
Wightlink, which introduced the ferries in 2009, now needs to obtain licences to carry out the environmental work before construction of the terminal can begin.
New Forest's district council and park authority withdrew their objections to the scheme after it was revealed Natural England had agreed to the plans to replenish the marsh.
'Battle not over'
The Lymington River Association continued to argue during the public inquiry that the bigger W class ferries were damaging the river with its protected mudflats and salt marshes, which are rich in bird and marine life.
Stephen Akester, from the group, said: "This is something we have been struggling with since 2008 and getting to this point is clearly disappointing.
"The firm still has to get these licences and we are in negotiations with the Marine Management Organisation [which give them out], so the battle is not over."
The inspector has restricted annual ferry trips to 18,000 and maintained current speed restrictions.
The report said: "The recharge [dredging works] has the potential to slow down the progress of the expansion of the channel that is currently cutting rapidly through the marsh and to delay its breakthrough.
"Although there remain uncertainties about the future impact and success of the recharge works, the upper limits of the potential impact have been identified.
"I am satisfied on the evidence that the recharge works have the potential to offset the worst case outcome."
Wightlink said it was "delighted" with the decision but now needed to act fast to obtain the relevant licences.