Justin Mellersh leaves Turkey 'without goodbye to children'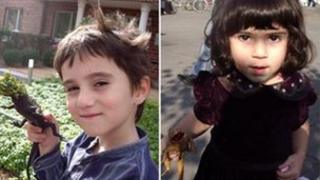 A Hampshire man whose children were found dead with their mother in Turkey has said he is returning to the UK without seeing them and saying goodbye.
Justin Mellersh, 46, has been in Turkey fighting to have his children's bodies flown back for burial near his parents' home in Minstead, near Lyndhurst.
He believes a funeral has been held in Turkey for Yaanis and Mira, aged eight and six and their mother, Elke, 45.
All three were found dead in Soke, western Turkey, last Friday.
Reports from Turkey's press suggest they died from carbon monoxide poisoning from a heater.
Local reports said all the doors and windows of their house in western Turkey had been taped up and a note had been left on the door, stating "Caution Toxic".
Mr Mellersh said Mrs Mellersh, who had been on the run from Interpol after she and the children went missing near Bremen, Germany, in February 2010, had left another note saying she wanted to be buried with the children.
A Turkish court ruled the bodies should be transferred to the custody of their mother's relatives in Turkey.
Mr Mellersh, who had legal custody of the children, said he had called on the UK Government to intervene.
Speaking to the BBC from Turkey, he said: "I believe the funeral has taken place, which I am saddened by.
"The bodies were given to the stepbrother-in-law, not to a blood relative.
"I've just been shocked at every stage of this process.
"There are still things going on at ministerial level between the British and the Turkish governments."
A Foreign and Commonwealth Office spokesperson said: "We were made aware on 19 November of the deaths of two British nationals in Turkey.
"The authorities in Turkey are investigating.
"Since this tragic event we have provided consular support to the family and have made representations to the Turkish authorities both in the UK and in Turkey."
The family has said it plans to hold a memorial service in Minstead, where the children spent much of their childhood.