Vinegar cancer detection hailed at Portsmouth hospital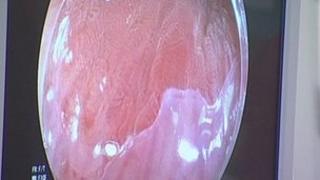 A Portsmouth hospital says it is using vinegar to help detect potential oesophagus cancer earlier.
A patient's throat is sprayed with vinegar diluted with water and potential cancer cells show up.
Prof Pradeep Bhandari, gastroenterology consultant, said the vinegar acted as a dye.
He said it allowed precancerous cells to be spotted earlier and simply scraped away.
The new testing and treatment procedure takes about 40 minutes, with people able to leave hospital the same day.
It is being targeted towards 4,000 people in the Portsmouth area with a condition known as Barrett's oesophagus, who are at higher risk of developing oesophagus cancer.
An operating theatre at the Queen Alexandra is now dedicated to carrying out the procedure and 12 consultants from around the UK are being trained in the technique.
Cancer of the oesophagus is one of the fastest growing cancers in the UK and the third most common cause of cancer deaths in men.
Prof Bhandari said the traditional method of using an endoscopic camera was not as effective in spotting small precancerous cells as early.
'Fish and chips'
He added: "The normal cells take the vinegar and stay white for about three, four or five minutes.
"Whereas the abnormal cells... lose their whiteness within 90 seconds to two minutes.
"The difference in colour is so remarkable that it attracts your attention and takes you where the problem is."
Using the camera method meant it was more likely that, by the time it was noticed, the cancer would have reached a more advanced stage and major surgery would be necessary.
The six or seven-hour procedure to remove the oesophagus and part of the stomach has a "very high risk of complications," said Prof Pradeep.
Prof Pradeep first began investigating the technique when he was in Japan in 2004 and saw vinegar being used in research laboratories to identify cancer cells.
When he started his research in the UK he said he used bottles of malt vinegar bought from the supermarket.
Sister Jacqueline Douglas said: "I thought it was mad to use vinegar.
"It is quite interesting and it does work - but we all go home hungry smelling of fish and chips."
Vinegar has previously been used in the developing world as a cheap and effective screening technique for cancer.