Courier robbed by masked man at Chandlers Ford HSBC bank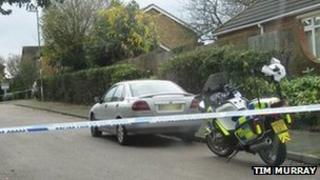 A masked man has robbed a courier delivering cash to a bank in Hampshire where two robbers were shot dead four years ago.
The G4S van was outside the HSBC branch in Winchester Road, Chandlers Ford, when a man wearing a balaclava ran up to the courier shortly after 09:30 GMT.
The man fled in a waiting silver Volvo car with the cash box. He did not use a weapon and the guard was unhurt.
A van at the same bank was targeted by an armed gang in 2007.
Earlier this month an inquest into the deaths of Mark Nunes, 35, and Andrew Markland, 36, ruled they had been killed lawfully.
Area sealed off
Metropolitan Police officers lying in wait for the pair shot them after Nunes pointed a pistol at a security guard delivering money to the bank.
Hampshire police said that this time the courier handed over the cash box, which contained an undisclosed amount of money, and the robber's car headed off along Bournemouth Road.
Police believe there were at least another two men in the car.
A spokesman said there was no link to the 2007 robbery.
The car and the box were later recovered by police from Shaftesbury Avenue, off Chalvington Road.
Chandlers Ford precinct near the bank and the area where the vehicle was found have been sealed off for examination by forensic science experts.