Turkish president visits Hampshire naval cemetery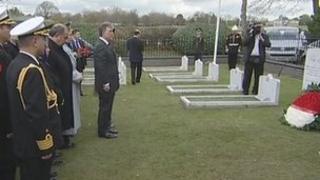 The president of Turkey has visited Hampshire as part of his state visit to the UK.
President Abdullah Gul visited the naval cemetery at Haslar Hospital in Gosport where 26 Turkish sailors were buried in the 1850s.
They died either by contracting cholera or in training accidents when two Turkish ships were anchored off the town between 1850-51.
The president also toured the navy 's new Type 45 destroyer HMS Dauntless.
He then had lunch on board Admiral Lord Nelson's flagship HMS Victory in Portsmouth.
Children plea
HMS Dauntless' commanding officer Captain Will Warrender said: "It was a great pleasure and a real honour for HMS Dauntless to host the President.
"The Type 45 Destroyer is on the cutting edge of military technology and my crew and I are justifiably proud of the ship.
"Mr Gul was given an insight into the capabilities of the Type 45 and he was particularly impressed by the world-leading Sea Viper missile system."
During the visit, the cousin of two children found dead in Turkey last week made an appeal to the president.
Natasha Mellersh, from the New Forest, called for the bodies of Yaanis and Mira Mellersh, who had been abducted by their mother, to be brought back to the UK for burial instead of being buried in Turkey.
President Gul and David Cameron met on Tuesday afternoon at Downing Street.