Uninsured Southampton council leader Royston Smith fined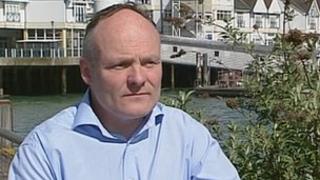 The leader of Southampton City Council has told the BBC he has been caught driving without insurance.
Conservative Royston Smith said he was initially pulled over for not wearing a seatbelt and fined £60 as he drove through the city earlier.
But when the officer checked, he found the Jaguar vehicle did not have insurance and fined him a further £200 and gave him six points on his licence.
Mr Smith blamed a mix-up with his insurers over a card payment.
He said the insurance company had now refused to insure him because of the points, and it had cost him an extra £500 to go elsewhere.
'Embarrassing position'
He could not explain why he was not wearing a seat belt and said it was a "one-off".
He added: "This in itself would be bad enough but the catalogue of events that followed have put me in an embarrassing position."
He said he let his insurance policy automatically renew earlier this month as he does every year.
But the company then emailed him because the payment with American Express needed to be manually authorised.
But Mr Smith said because he had changed his internet provider he did not receive the email.
"The company presumably sent an email to the former BT address but I didn't receive it, so thought the payment and renewal had taken place automatically as usual," he added.
"I will be talking to the insurance company and taking legal advice because I now have points added to a clean licence and a fine."
He said he did not think his position within the council had been "compromised by this mistake".
The Conservative-led authority is at the centre of a long-running dispute with unions over workers' pay.
On Tuesday, a revised offer was rejected and further industrial action is likely.