Arrest warrant for Portsmouth FC owner Vladimir Antonov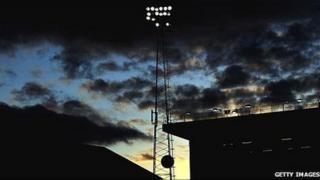 A Europe-wide arrest warrant has been issued for the owner of Portsmouth Football Club Vladimir Antonov.
Lithuanian prosecutors want to question him as part of an investigation into alleged asset stripping at Snoras Bank.
They are also seeking his business partner Raimondas Baranauskas. Both are former managers and shareholders of the bank and deny any wrongdoing.
Portsmouth FC said its business operations were unaffected and its day-to-day operations "carry on as normal".
'Recognised as suspects'
Snoras Bank went into temporary administration last week and, on Tuesday, Latvian authorities suspended the operations of another of Antonov's banks, Krajbanka, for similar reasons.
A court in Lithuania granted the request by the Prosecutor General's Office on Tuesday and a pre-trial investigation into alleged fraud and money laundering has begun.
Portsmouth said on Friday it was unaffected by the situation at Snoras Bank.
In a statement, the prosecutors said: "Both former managers of the bank Snoras have been recognised as suspects with regard to misappropriation of property on a large scale and forgery of documents.
"R. Baranauskas is also suspected of fraudulent accounting and abuse of authority.
"Prosecutor General Mr D Valys signed European arrest warrants issued against these persons."
Mr Baranauskas also held the posts of the chairman of the bank board and president.
'Solely financed'
Mr Antonov owns 68% of Bankas Snoras and an administrator has been appointed to assess its financial position.
The Russian businessman is the backer of Convers Sports Initiatives (CSI) which owns Portsmouth FC.
Last week CSI released a statement saying: "In the light of the recent events at Snoras Bank, Convers Sports Initiatives (CSI) would like to reassure its companies, staff, and the fans of its teams and events, that it remains very much business as usual.
"We are operationally unaffected by Snoras Bank entering temporary administration.
"CSI has been solely financed through the private wealth of its owners.
"Snoras Bank has never provided funding for the purchase of a CSI organisation, nor has it lent any money to these businesses after they have been acquired."
In February 2010, Portsmouth became the first Premier League club to be placed into administration and CSI completed its takeover of the Championship side in June 2011.