No Christmas lights at Waterlooville shopping precinct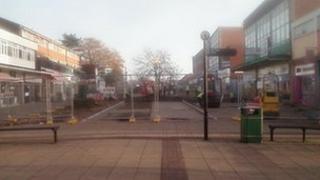 Retailers at a shopping precinct in Hampshire say there will be no Christmas illuminations this year because of a lack of cash.
Part of Waterlooville's precinct is also fenced off while 40 weeks of works are carried out.
Shopkeepers say the area is "a bit bleak" but they are not prepared to pay for this year's lights as they are struggling to survive.
They normally provide £3,000 for lights which is then matched by the council.
'Fine budget'
Rosemary Wilson, of Waterlooville Business Association, said: "A lot of the shops have closed in the last year, we've lost another two in the last month. They are working to a very fine budget.
"The roadworks have cut the town in half. We're hoping that they will do their own windows and make a good splash of lights."
The Christmas lights were hung on trees which have also been pulled down as part of the £700,000 scheme by Havant Borough Council.
Tim Slater, from Havant Borough Council, said: "It is a large-scale complicated scheme.
"We have commitments to start the works before the end of the year and it has a complex scheduling."