Pilot's Merlin Trophy crash was accidental, says jury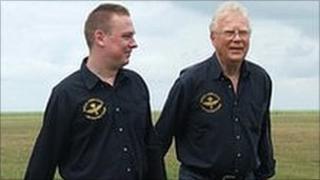 A pilot has told an inquest of the moment he collided with another plane during a race over the Isle of Wight.
Michael Willis, 73, and his son, James Willis, 42, from London, were killed when their Mooney M20B aircraft collided with a Vans RV-4.
Pilot Benjamin Chapman and navigator David Tugwell landed their RV-4 safely, but the M20B broke up and crashed.
The jury at Newport in the Isle of Wight decided the September 2010 crash was accidental.
Mr Chapman said the accident happened as the aircraft were on the final stretch of the Merlin Trophy race.
The race was a precursor for the main annual Schneider Trophy, which was then cancelled.
'Puff of smoke'
Mr Chapman said he and his navigator had seen the Mooney flying below and to the right of their aircraft.
"What I felt was the 'bang-bang' of the propeller and simultaneously seeing the other aircraft come up on my right-hand side.
"He was no longer facing the direction of travel; the roof of the cabin flashed past us very briefly.
"I also saw a puff of smoke or steam."
Mr Tugwell said as the planes approached the last leg of the race, it was clear the Mooney was gaining on the RV-4 and was likely to overtake his plane.
Det Sgt Gary Lyons, of Hampshire and Isle of Wight police, said witnesses described the Mooney aircraft rising up and colliding with the Vans aircraft, which was travelling at 185mph (300km/h).
Tony Severs, an investigator, said it was the responsibility of the overtaking aircraft to stay clear of the other aircraft, and there were no signs of any technical faults in the aircraft.
Michael Willis, from Hillingdon, west London, had trained as a commercial pilot and worked for Dan Air and AB Airlines.
His son, James Willis, from Stanmore, north-west London, had been navigating with him for about three-and-a-half years.
The inquest heard that both father and son died of multiple injuries, with James Willis suffering a severe head injury.
It was also told that Michael Willis suffered an arm injury consistent with him gripping the flight controls at the time of the impact with the ground.
The jury, made up of five men and five women, returned verdicts that both father and son died as a result of an accident.