Mottisfont's Boris Anrep-inspired angel sculptures mark 65 years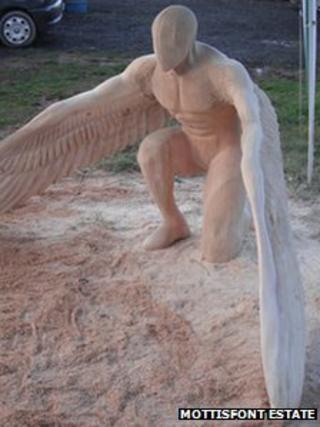 Eight angel sculptures are being installed at a Hampshire estate to mark the 65th anniversary of its angel mosaic by Russian artist Boris Anrep.
The new sculptures, part of the Angel Garden at the National Trust-run Mottisfont Estate, near Romsey, are inspired by the original 1947 mosaic.
The face of the mosaic, included in the garden, was based on Anrep's lover and former Mottisfont owner, Maud Russell.
The new pieces by eight artists go on public display on 2 December.
The trust said the sculptures ranged from "a cross between an angel and an alien", to a 10ft (3m) angel balanced on a ball.
The eight artists involved in the new project are: Ed Elliott, Nigel Williams, Andrew Rawlings, Olivia Keith, Hywel Davies, Kirsten Linning, Ian Campbell Briggs and Jilly Sutton.
Anrep is best known for his mosaics at London's National Gallery, Westminster Cathedral and the Bank of England.