Hampshire abducted children's father flies to Turkey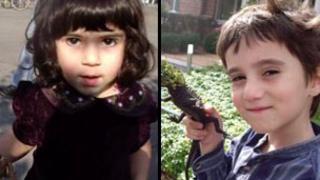 The father of two children from Hampshire who were discovered dead in Turkey has flown to the country.
The bodies of Yaanis Mellersh, eight, and Mira, six, and their German mother Elke Mellersh, 45, were found in the Aegean coast town of Soke on Friday.
Their father Justin Mellersh, 46, and his father Nick are trying to arrange repatriation of the children's bodies to Hampshire.
The Foreign Office said it was providing consular advice to them.
A spokesman added it would not comment further due to the "sensitive nature" of the case.
The children were supposed to be in the custody of their father in Germany. His family live near Lyndhurst in the New Forest.
The two children grew up in the New Forest before moving to Germany with their parents.
They were reported missing in 2010 and their mother was wanted on suspicion of child abduction in Germany.
A police spokeswoman said she went missing from her home in Germany nearly two years ago and had been wanted ever since by the German police.
The Forever Searching charity had been helping the family hunt for the children over the past year.
Karen Chapman from the charity said: "The family have a big emotional challenge in getting through losing two children. Our initial thoughts were 'why could we not have done more?'"
Soke farmhouse
The investigation is being led by Turkish police but the Hampshire force is helping the Foreign and Commonwealth Office by talking to the Mellersh family in Hampshire.
"Specially trained family liaison officers are supporting the family and offering their assistance at this difficult time," the spokeswoman said.
The bodies of the children and their mother were found in a farmhouse in Soke.
The Foreign Office said it had been made aware of the deaths of two British nationals on Saturday and they were being investigated by authorities in Turkey.
Yaanis and Mira were last seen at Hepstedt near Bremen in Germany in February 2010.