Hampshire Police Authority paid '£3m over value' for HQ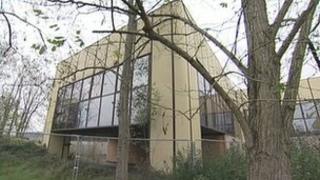 Hampshire Police Authority paid £3m, or 40%, more than the market value for land for a new police HQ, internal communication seen by the BBC suggests.
The site in Alpha Park, Chandlers Ford, was bought for £9.2m in 2008, even though it was estimated to have been worth £6.6m. It has remained unused.
Internal emails and reports show the authority bought the land against the advice of senior officers.
The Audit Commission said HPA had not acted "recklessly" or "unreasonably".
No further action was taken.
Internal communication in the months leading up to the purchase show several senior officials expressed serious concerns about the deal, warning the price was 40% above market value, and that they felt it was "rushed through".
'What have we done?'
Treasurer at the time, Jon Pittam, said: "I wouldn't touch this with a barge pole - it's a series of cheap industrial units depreciating rapidly."
The then chief executive, Jeff Pattison, wrote: "It is never a good time to pay 40% more than a property is valued at... this is a particularly bad time in an economic and property downturn. It would be very difficult to justify to taxpayers."
On the evening after agreeing to the sale Jacqui Rayment, chair of the police authority, emailed a colleague: "Oh God, what have we done... I guess only time will tell."
The authority says plans for the new headquarters are currently on hold because of government spending cuts of 25% over four years.
It is reviewing all its sites and is selling buildings it no longer needs.
The current plan is to use part of the eight-acre site to house the force enquiry centre, workshops, stores and archives.
But more than two-thirds of the site could be sold and the authority is still looking elsewhere for a headquarters.
However, authority members stand by the decision they made in 2008.
Ms Rayment said: "We took the right decision at that point in time. I still believe that we will use Alpha Park. I don't think we've wasted public money."
The police authority is also planning to close 28 front offices and 18 whole police stations to save money. No final decisions have been made.