Southsea and Isle of Wight hovercraft running again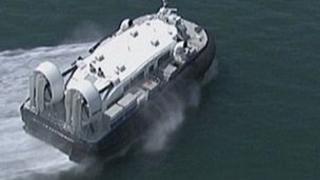 The hovercraft service between Hampshire and the Isle of Wight is running again after safety concerns on Friday caused its suspension.
Part of a propeller came off Hovertravel's largest vehicle, meaning the fleet had to be inspected.
The Maritime and Coastguard Agency found inconsistencies in safety management systems, particularly with vessel maintenance.
The first crossing from Ryde was at 15:15 GMT on Monday.
Revised timetable
Hovertravel Managing Director Neil Chapman apologised for the "significant inconvenience" caused by the weekend closure.
He added: "The safety of our passengers, staff and vessels is of paramount importance to us.
"There was no question of us operating until both the company and our regulatory authority, the MCA, were completely satisfied with our safety compliance."
The company will now be operating a temporary revised timetable using its one working hovercraft until work to refit the propellers on the second is complete.
Services will run every 30 minutes during peak commuter times and every hour at other times.
Hovertravel's two craft usually make 66 journeys in an average day and carry 15,000 passengers a week.