Tristan da Cunha islanders mark evacuation anniversary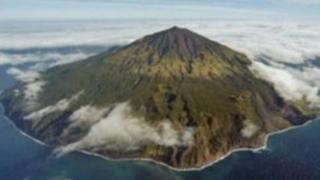 The 50th anniversary of the evacuation of remote island Tristan de Cunha has been marked in Hampshire.
Some 268 residents were forced to leave their homes in the south Atlantic in October 1961 when the island's volcano started to erupt.
The islanders were shipped to Calshot and rehomed at a former RAF camp for two years before most returned.
A reunion was held at Fawley with islanders who remained in the UK and visiting Chief Islander, Ian Lavarello.
'Weren't happy'
He said: "The islanders weren't happy being evacuated, life was very, very different, much faster. They wanted to return to the island as soon as they could."
The gathering saw families share photographs, cuttings and memorabilia from their days in the World War II Nissen huts where they were housed for almost two years.
They came to the UK because they were citizens of the British Overseas Territory of St Helena.
Most returned to the island about 1,740 miles (2,800km) west of Cape Town, South Africa, once the volcano was declared safe.
The street in the village of Calshot on the shores of Southampton Water where they were housed was named Tristan Close - in memory of the islanders' time in Hampshire.
The harbour on Tristan da Cunha was named Calshot Harbour.