Man found mother in pool of blood at home in Hampshire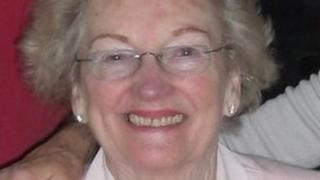 The body of a woman bludgeoned to death with her own marble rolling pin was later found by her son at her Hampshire home in a pool of blood, a court heard.
Georgina Edmonds, 77, was tortured for her Pin number then beaten to death by Matthew Hamlen, the prosection says.
Her body was discovered by her son Harry Edmonds at her cottage in Brambridge, near Eastleigh, in January 2008, Winchester Crown Court heard.
Mr Hamlen, 33, an electrician from Eastleigh, denies murder.
Mr Edmonds described to jurors how he had a feeling of "foreboding" as he arrived at his mother's cottage.
'Foreboding atmosphere'
He said: "I was struck by the fact it all looked so dark, it seemed to be a foreboding atmosphere, I was conscious of it."
Mr Edmonds told how he rang her telephone then decided to climb through a window of the cottage when she failed to answer.
He said: "I saw some legs on the floor, 'My God', I thought, 'This is terrible, she's had an accident'.
"There was [my mother] lying on the ground, flat on her face and there was a huge pool of blood coming out from under her head and unfortunately because it was dark I had trodden in this.
"I realised I had been treading these bloody footprints into the carpet."
Mr Edmonds called 999 and told the operator: "I think there's been a murder here."
He continued: "I didn't touch her because I know you do not touch a crime scene and there was a big dent in her head and she had clearly received a blow or blows of sorts."
Mr Edmonds described his mother as a "lively character" who led an active life, despite four hip replacement operations and suffering from an irregular heartbeat.
Earlier the trial has heard that Mrs Edmonds was stabbed several times with a knife by her killer who tortured her to force her to reveal her bank card number.
She was also hit over the head with a rolling pin from the kitchen where her body was found.
The prosecution alleges Mr Hamlen attempted to use the card and that he was captured on CCTV disguised in a hooded fluorescent jacket.
The trial continues.