Memorial for crew lost on D-Day Landing craft LCT 427 in Solent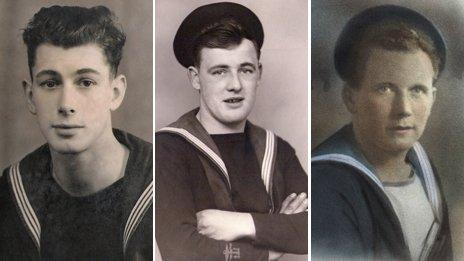 A memorial service has been held for the servicemen who died when a World War II landing craft sank in the Solent during World War II.
Landing craft LCT 427 was returning to Portsmouth on 7 June 1944 after taking tanks to Gold beach in Normandy.
Four miles from shore it collided with battleship HMS Rodney and was sliced in half. All 13 crew died.
The Southsea Sub-Aqua Club discovered the wreck in August and began a search for relatives or comrades of the crew.
Only one body was ever recovered, the other 12 were lost with the craft.
Alison Mayor, who led the diving team, said as a result of the campaign, relatives of nine of the 13 crew had contacted the club and five families planned to attend the memorial.
Other D-Day veterans and divers from Southsea Sub-Aqua Club also took part.
A boat took 22 of them from Portsmouth dockyard to the site of the wreck to lay wreaths for the crew who lost their lives in the tragedy.
It was followed by a short, traditional service at St Ann's church in Portsmouth Naval Base.
Former Midshipman Paul Butler, from Bledington, Gloucestershire, gave a reading at the church service.
He was on another LCT returning as part of the same flotilla and believes he signalled LCT427 just before the accident.
Among others attending were the former fiancé of Wireman Kenneth Sumner, from Wilmslow, Cheshire.
He was the only crew member recovered from the sea that night but died two days later. His grave is at the Royal Naval Cemetery in Haslar, Gosport.
The remaining crew were reported as missing, presumed killed, and none of the relatives were told about what had happened.
Many relatives went on believing they had been lost in Normandy, until the wreck was found by divers this summer.
It was identified at a depth of 30m (100ft) during Southsea Sub-Aqua Club's diving survey and historical research in the Solent area.
The two pieces lay upright several hundred metres apart in the busy main shipping channel approaching Portsmouth and Southampton.
The area is normally out of bounds for diving, but the club was given special permission by Portsmouth Harbour Master.
Sub Lieutenant Frank Freeman, 20, from Nottingham was another crew member who died in the tragedy.
After Ms Mayor appealed on BBC Radio Nottingham, the son of one of Sub Lt Freeman's cousins, Richard Graine, contacted the BBC saying: "I was always aware of pictures of Frank and that he died on D-Day, but that's all I knew.
"To think you are home safe and then this happens, it's very sad."
Relatives of Hallam Carr, Eric Fields, David Spillane, Kenneth Sumner and Joseph Whitfield were attending the memorial.
Related Internet Links
The BBC is not responsible for the content of external sites.