Hampshire thatched cottage ravaged by fire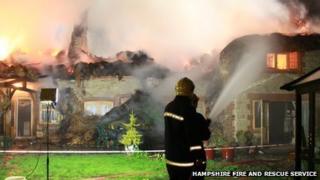 More than 50 firefighters were called to tackle a blaze at a thatched cottage in Hampshire.
Flames had engulfed the roof of the two-storey home in South Lane, Buriton, near Petersfield, on Sunday night.
The occupants managed to flee unhurt before eight fire engines arrived at the scene and crews brought the blaze under control.
The roof was completely destroyed by the fire. The cause of the incident is under investigation.
Group manager Tony Deacon said: "Upon our arrival we could see lots of heavy smoke in the vicinity, flames were visible in the thatch and the windy conditions were assisting the developing fire.
"Firefighters tackled the fire from both outside of the property and from within the internal loft space where crews worked in arduous conditions.
"I urge thatch property householders to contact their local fire station for advice and guidance on preventative measures and maintenance tips."