Gurkha settlement fund to aid Rushmoor council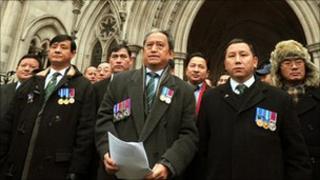 A Hampshire town is to receive the "majority" of a £1.5m fund set up to ease the pressure on resources amid an influx of former Gurkha soldiers.
Up to 10% of the population of Rushmoor Borough Council, whose area includes Aldershot, is now Nepalese after a legal ruling allowing them to stay.
Communities Secretary Eric Pickles said ministers wanted the veterans and their families "to feel welcome".
Pro-Gurkha campaigners said the money was not enough to ease local problems.
In 2009 the government allowed Gurkha soldiers who had retired before 1997 to settle in the UK, which followed a high-profile campaign lead by actress Joanna Lumley.
'Plugging a leak'
Many moved to north Hampshire because of its links to the military and its established Nepali community.
Following the announcement of the fund, the British Gurkha Welfare Society warned that, although the funding boost was welcome, it was no more than a short-term measure that "fails to address the root cause of the welfare problems facing Gurkha veterans".
Its chairman, Major Tikendra Dal Dewan, said: "We need to be realistic: this new funding is essentially like trying to plug a leak in a dam with your finger.
"This group of veterans is going to get older, and will face new and more demanding care needs that this funding will not provide for - meaning that we will just be back in the same situation in a year or two's time, if not sooner."
He said it would be better for the government to resolve the root causes of Gurkha welfare problems and put measures in place that mean veterans "do not have to leave friends and family in Nepal and come to the UK out of financial desperation".
The fund, which is made up of equal contributions from the Department for Communities and Local Government, the Ministry of Defence and the Gurkhas, will be directed at Aldershot and other areas with large Gurkha populations.
Nearby Farnborough has also seen an increase in the number of former Gurkhas, and other local authorities will receive a share of the money to help manage future integration of retired veterans and their families.
'Dignity and respect'
It comes after some local politicians complained that while they welcome the newcomers, the scale of the arrivals has placed unsustainable pressure on local services such as health and housing.
However, Communities Secretary Eric Pickles said: "These brave British Army veterans have given our country loyal service over many years. It is their bravery that has helped protect our way of life and our traditions and it is right that their dedication is honoured.
"They have a right to live here and we are determined to see that they and their families are treated with dignity and respect and are made to feel welcome."