New Forest snake catcher nominated for art event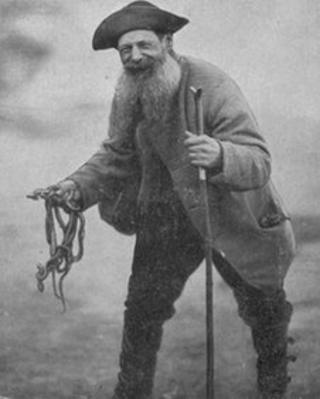 New Forest snake catching legend, Harry 'Brusher' Mills, has been put forward as one of the 'Greats' of Great Britain for an art event.
He has been nominated as a favourite great person for The Great Exhibition 2012 which is due to take place in Peterborough during the Olympic Games.
Born in 1840, he was an eccentric character who lived in a stick hut in the forest and who made a living from catching snakes.
Forest ranger, Richard Daponte said: "In those days they would send live snakes to London Zoo on the train to feed other tropical snakes."
He also made ointments from the snakes; tourists would visit the forest to meet him and buy his bottled potions as a souvenir.
'Cure all'
Mr Daponte said: "The story goes that he would boil down their bodies, get the fat and turn that into an ointment which would be a cure-all for any venomous bite."
The New Forest National Park estimates he caught about 30,000 snakes and 3,500 adders over 18 years.
Embedded in the history of the national park, he got his name 'Brusher' because he used to earn some money brushing the leaves from the cricket grounds of Brockenhurst and Lyndhurst.
He was a regular visitor to the pub in Brockenhurst, which was then called the Railway where he was said to have scrounged drinks by telling stories.
'Bag of snakes'
He also had another trick to get a pint, said Mr Daponte.
"He would have a bag of snakes, which he would throw down on the ground, allow the snakes to slither all over the floor and then say he wouldn't pick them up until someone bought him a drink."
He died aged 65 from a heart attack, "after visiting the pub he went missing, the next day people looked for him and found him dead in a nearby outhouse.
"There is also this story that the night before his hut had been vandalised and he died of a broken heart as he had nowhere to live," he recalls.
The pub has now been renamed the Snake Catcher in his honour.
The event and the Greats of Great Britain will be featured in Peterborough from 28 July to 11 August 2012.