Victoria Nye showed 'no signs of self harm' before fall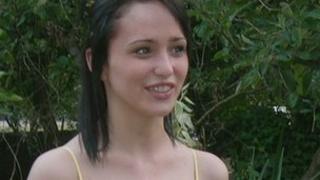 A 22-year-old Southampton woman had shown "no signs of self-harm" while in a psychiatric unit shortly before her death, an inquest has heard.
Victoria Nye fell from a tower block hours after being discharged from Royal South Hants Hospital in 2010.
Under cross examination at Southampton Coroner's Court, consultant psychiatrist Dr Anders Ekelund said he had no grounds to detain her.
Her family has said she should not have been allowed to leave the unit.
The inquest previously heard Victoria Nye, who had a history of mental illness, alcohol and substance abuse, was discharged from Royal South Hants Hospital's Department of Psychiatry on 3 March 2010.
She was found fatally injured early the next morning after falling from her 13th floor flat.
'Feeling claustrophobic'
Under cross examination by a lawyer representing Ms Nye's family, Dr Ekelund was asked why she was not referred to specialist addiction services and why she had been allowed to leave the unit with no risk assessment, care plan or medication.
Dr Ekelund replied that during the two previous weeks, Ms Nye had shown no sign of self harm or alcohol craving and had coped well with short-term trips out of the ward. He added that she had rationally discussed her future.
He also confirmed that earlier he had changed her diagnosis from bipolar illness to "emotionally unstable personality disorder" and her medication had been stopped.
He said he had not wanted Victoria to leave the hospital until a proper care plan was in place but, under the Mental Health Act, he had no reason to detain her.
Dr Ekelund said she told him she was feeling claustrophobic and did not want to stay on the ward.
Ms Nye was a voluntary patient in a non-secure ward and as such was not restricted in her movements.
The court also heard from the area manager of adult mental health services in Southampton, Trevor Abbotts, who said the service had "tightened up the discharge procedure for patients" following Ms Nye's death.
The inquest continues.