Squirrel's acorn stash causes car breakdown at farm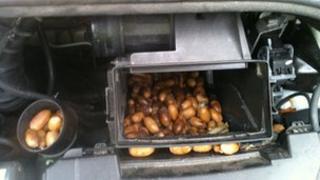 A squirrel stashing its acorns for winter caused a car to break down at a Hampshire farm.
Basingstoke AA patrolman Andy Smith discovered hundreds of acorns in cavities of the car's air pipe in Micheldever on Saturday.
"The pipe and air box were literally rammed with acorns - they just poured out," he said.
Mr Smith carried out diagnostic tests for 20 minutes before discovering the source of the problem.
He used a hand-held vacuum cleaner to clear them out.
Crawled up
"I'd stumbled across a squirrel's winter store," he said.
"I don't know how many acorns a squirrel can move an hour, but there must have been 200 in there.
"It's very unusual."
It transpired the squirrel had crawled up through the air intake at the front of the car in order to store its acorns.
Mr Smith only realised the air intake was blocked after going under the bonnet and dismantling the air filter.