Southampton General Hospital helipad test flight postponed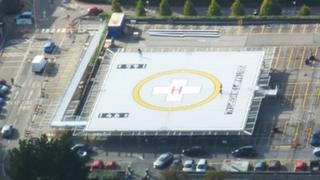 A planned test flight for a new hospital helipad in Hampshire has had to be cancelled.
The platform has been built at Southampton General Hospital and gives access straight to the A&E department.
A test flight was arranged on Wednesday but had to be cancelled when porters raised concerns over training.
The hospital said there were "unresolved issues" but hoped the platform would be fully operational shortly.
The helipad replaces the current landing site at Lordshill, which requires a land transfer to hospital.
'Working with porters'
Hospital managers said the new site would mean patients could be transferred faster and more efficiently.
Steve McManus, chief operating officer at University Hospital Southampton NHS Foundation Trust, said: "Once a test flight has been successfully completed, the helipad would be ready to receive flights any time of the day or night.
"Unfortunately we didn't feel we could support this [on Wednesday] due to some unresolved issues and have taken the decision to postpone the initial flight, but we do not anticipate a lengthy delay."
The hospital said it was working with the porters to resolve the situation.
The helipad, partly funded by donations, has been built as part of proposals for the hospital to become a major trauma centre for the region.
Construction started on the platform in July.
A number of car parking spaces which were closed during construction will now be reinstated, the hospital said.