Children helped by Isle of Wight women's refuge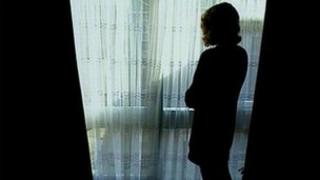 An Isle of Wight teenager whose mother was in a violent relationship has described how a refuge helped them rebuild their lives.
Isle of Wight Women's Refuge is one of hundreds of projects that have been helped by Children in Need.
More than 100 children have been helped by the refuge in the last year, including Lilly, whose mother was in a violent relationship for nine years.
She said the refuge had helped bring her family back together.
Lilly, now 15, was aged six when her mother began the troubled relationship.
'Really frightening'
She said: "After a couple of years it started going down hill. He used to come in really drunk and really late and would wake the whole house up.
"It was really frightening. One night he came in and he got this pole and stabbed her in the eye with it and she went to hospital and he was arrested."
A restraining order was served on Lilly's mother's abuser, spelling the end of their relationship, and police referred mother and daughter to the refuge.
She said: "Mum got somebody to talk to and they also gave me somebody to talk to.
"If I didn't get the help I think I would still be angry at my mum.
"If it hadn't been there I would have probably just resented my mum and not been a very nice daughter - it has brought us back together as a family."
The refuge received £97,000 from the 2010 Children in Need appeal.
The money is being used to help young people affected by domestic violence by providing counselling and other support.
Last year's Children in Need campaign raised a total of £18m.