Police marksman describes Hampshire bank robbery shooting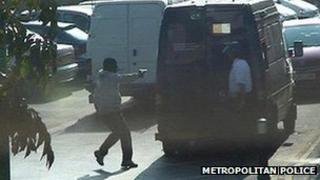 A firearms officer who shot and killed an armed suspect during a bank robbery in Hampshire has described the moment he pulled the trigger.
Mark Nunes and Andrew Markland were shot by police during a security van raid in Chandlers Ford in 2007.
The Metropolitan Police rifleman told an inquest in Winchester he shot Nunes when he saw him aim a pistol at a security guard's head.
A second rifleman shot Markland when he ran towards Nunes' body.
The first rifleman, whose name has not been disclosed, said he was watching from near the HSBC Bank where police had been expecting the raid.
'Squeezed the trigger'
Describing the moment the cash van pulled up, he said: "My heart was racing. I felt like I'd just run a hundred metres. My heart was pounding.
"There was one bank robber at the bus stop, there was one in the car. I was scared.
"Members of the public were walking past. I knew that when the cash van door opened there would be some overt aggressive act towards the guard.
"Mark Nunes moved quickly with his pistol raised and put the gun to the guard's head. I believed the guard was to be shot - that there was a threat to life.
"Mark Nunes was in front of the guard. I could not shoot because the round might have hit the guard.
"I waited a few moments. Mark Nunes moved to the left. He was still a threat. He still had the gun to the guard's head. So I squeezed the trigger and fired one shot."
He said Nunes fell down and he then saw Markland run over to Nunes and crouch down. He then heard a shot fired by a second rifleman and Markland fell.
Lack of evidence
He told the inquest he then heard one more round fire by the second rifleman.
The second rifleman is due to give evidence later today.
Previously the court heard that Nunes, 35, and Markland, 36, both from London, were shot as they held up a G4S van at a branch of HSBC in September 2007.
Officers were lying in wait for the pair but had not arrested them earlier because of a lack of evidence.
The jury was shown police footage of Nunes being shot as he pointed a gun at the head of a security guard.
Central Hampshire coroner Grahame Short told jurors Markland then appeared to pick up the gun before being shot by another marksman.
Post-mortem examinations found Nunes died from a high-velocity gunshot wound to the chest which exited through the neck and Markland died from two separate high-velocity gunshot wounds to the chest.
The inquest continues.