Worldwide paedophile ring unravelled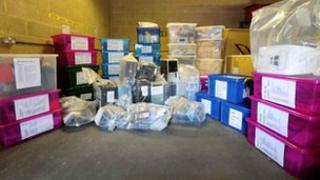 Hours after the tip-off from Australian police in December last year, Robert Hathaway and Melissa Noon were arrested.
For two years the couple had been running a nudist website, which in reality hid an international paedophile forum with links across Europe, Australia, America and Japan.
Investigations into the abuse of a child in Australia had uncovered a video and images of the abuse of two children in Portsmouth and the authorities there immediately made contact with their UK counterparts.
Hathaway was soon identified and over the next few months, Hampshire police unravelled the network, discovering and investigating another 34 people from across the world.
Pictures, videos and total of 2,000 pages of chat logs were found with graphic descriptions of abuse and plans being made for further abuse to be carried out.
Evidence was found on 45 phones, 113 computers and laptops and storage devices as well as hundreds of DVDs and CDs which were forensically examined by police.
'Shocking abuse'
Five members of the group, including Noon, have now been found guilty at Portsmouth Crown Court of their part in the abuse of two youngsters, both aged under 13.
Hathaway pleaded guilty to 45 offences, including rape and sexual assault, prior to the start of the trial.
Kerry Maylin, prosecuting, said the "shocking abuse" went beyond "nudism" and ranged from naked games to causing the children to watch pornographic videos to the use of sexual aids to rape and attempted rape.
Describing one of the videos distributed by the group, she said that it was entitled a "training video" to get a child "ready".
Stephen Fraser, 41, of Hemingford Road, Cambridge, who pleaded guilty to offences of sexual assault of a child and causing a child to engage in sexual activity, also brought with him on another occasion the game Twister to play naked with the couple and one of the children.
Det Insp Victoria Dennis, senior investigating officer, said a team of detectives worked 14 hours a day to identify and safeguard the victims after receiving the initial tip-off.
She said: "This is the largest investigation of this type that Hampshire Constabulary has ever dealt with.
"In my 20 years as a police officer, it's the most serious and complex case I've personally ever had to deal with.
"What's been particularly awful - in fact it's been absolutely horrific in this investigation - is the amount of images of abuse, and in particular the videos.
"We've had 14,000 indecent images that had to be viewed and graded, and in addition we've had 600 extreme pornographic images.
"But the most horrific were over 300 videos of children being sexually abused.
"I've never seen anything like that in my career."
Robert Hathaway - ringleader
Robert Hathaway was the ringleader of the paedophile ring and together with his partner Melissa Noon, he raped and abused two young children over a period of two years.
He worked as a security guard at a shopping centre but in his spare time he ran a nudist website, which provided cover for his depraved sexual interest in children.
Melissa Noon
As the partner of Hathaway, Melissa Noon actively took part in the abuse.
Miss Maylin described her as a central part of the group, who would become sexually aroused by watching videos of the abuse.
She said: "She said she liked what she saw. She certainly didn't condemn what she had seen, quite the opposite, she said it turned her on, she was sexually aroused." Noon declined to give evidence during the trial.
Simon Hilton
Simon Hilton, an IT consultant from London, made plans to travel to Portsmouth to abuse children after being invited by Hathaway and Noon. He declined to give evidence during the trial.
Daniel Bell
Daniel Bell is a serving soldier of Emsworth in Hampshire, living in military accommodation.
He linked up with Hathaway over the internet but giving evidence he told the court any conversations they had had were "pure fantasy" which he was later "sickened by".
Mr Bell told the jury that he had suffered a number of setbacks in his personal life, had taken to drinking and had sought out conversation with Hathaway out of loneliness.
Mark Day
Mark Day, a marketing manager from Kent, led a double life hiding his sexual interest in children from his wife and two young children.
He was in contact with Hathaway and they made plans to meet up to abuse one of the youngsters together.
Afterward he deleted all material relating to his involvement and tried to cover his tracks.
John Maddox
John Maddox is a shop assistant who has no children and lives with his partner in Essex.
He carried out his offence via a webcam and was convicted of causing a child to engage in sexual activity
Maddox also made plans to meet with Noon and Hathaway to abuse the children.
None of the defendants had any previous convictions for child sex offences or any other offences.