Crews tackle fire at a Southampton business park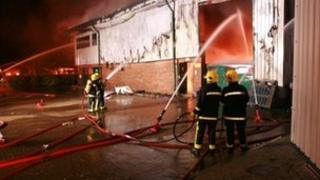 Two businesses have been destroyed by a severe fire in Southampton.
The blaze at the Rushington Business Park, Totton broke out at about 02:40 GMT, Hampshire fire service said.
The fire destroyed the two-storey buildings measuring 25m (82ft) x 30m (98ft), a garage and a commercial lighting company.
About 40 firefighters in seven fire engines with two aerial ladders were used to bring the fire under control. An investigation is under way.