Jo Yeates' father: 'No closure for family'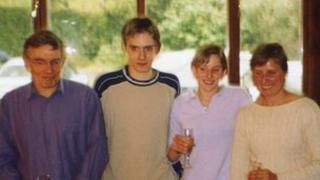 The father of landscape architect Jo Yeates has said the conviction of her murderer has not brought closure for his family.
David Yeates, from Ampfield, Hampshire, said his family were continuing to find it difficult to come to terms with the loss of his "bubbly" daughter.
He told BBC South: "People talk about the trial as being closure. It's not the closure of anything.
"It's just the end of the administrative part of Jo's death."
In an interview with BBC South home affairs correspondent Alex Forsyth, he added: "Our lives carry on and we still have to deal with the fact that Jo is no longer around."
On Friday Vincent Tabak, 33, was jailed at Bristol Crown Court for a minimum of 20 years for strangling Miss Yeates.
Mr Yeates said Christmas was a particularly difficult time for his family, not just because his daughter's body was discovered in Bristol on Christmas day.
He said: "She loved Christmas - that was the best time of the year.
"She enjoyed the whole razzmatazz to do with Christmas and that's why Christmas - her being found on Christmas Day - was so poignant.
'Terrific daughter'
"When she was living here, me and her used to go off and buy the Christmas tree and she used to help decorate it.
"In my mind she was a terrific daughter, but all fathers would say that.
"We looked forward to that time when she would find a partner and settle down and create a family and we felt she was in the process of doing that. She was happy."
Mr Yeates added: "The trial was more stressful and intense than we ever imagined it to be and we thought we'd restore ourselves to roughly where we were before the trial but because of some of the things that came out of the trial - it knocked us back a bit.
"When Tabak's sexual bits came out and the potential impact - it was quite a shock - it was something we didn't expect.
"The other thing was, the number of injuries on Jo, although none of them were individually serious, it indicated an extended significant struggle that she had with Tabak before she was eventually murdered and that was a tremendous shock to us."
Mr Yeates said his family had been "overwhelmed" by the response from people following his daughter's disappearance.
He said his family had received hundreds of cards and letters from members of the public.
Miss Yeates's former employers in Bristol and Ampfield have both planned gardens of remembrance.
He said: "I never realised that Jo had such an impact on other people and that really gives me an enormous amount of pride.
"It's just a shame that she died when she was 25 and it would have been interesting to see what she might have become or what she might have achieved if she lived another 25 years.