Memorial to Southampton's sailors killed in hurricane vandalised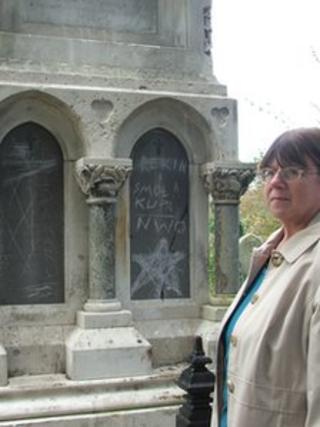 Vandals have desecrated a 140-year-old memorial to Southampton sailors who died during a shipping tragedy in 1867.
More than 120 city crewmen were killed when RMS Rhone and sister ship RMS Wye sank in Caribbean waters during a hurricane.
Many of the names of the victims have been scratched off and stone work hammered away from the memorial in Southampton Old Cemetery.
A spokesman for Hampshire Constabulary said a man had been questioned.
Vandals smashed up a nearby private grave and used part of the stone cross to scratch off the names of crewmen who died in the disaster.
'Utterly devastated'
They also daubed foreign writing over the monument, which was set up through public subscription, and is now maintained by volunteers.
Gillie Dunkason, from the Friends of Southampton Old Cemetery, said: "I was utterly devastated, partly because we had put so much hard work into the cemetery. To see the mindless vandalism was incomprehensible.
"We all shed a few tears as it affected us so badly.
"We'd like to get the culprits up here and educate them about the damage they have done," she added.
City council leader Royston Smith said: "The actions of the individual's involved in this despicable act of mindless vandalism are beneath contempt.
"I hope the police quickly track them down and bring them before the courts where the maximum sentence should be given."
Anyone with information about the vandalism, which happened on Friday, is asked to contact Hampshire Constabulary.