Honey Buzzard takes plane flight to The Gambia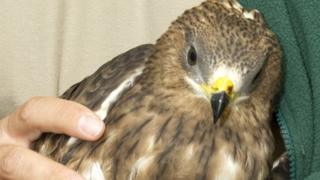 A rare bird of prey that recovered from a wing fracture has taken to the skies again - by plane.
The young honey buzzard was treated at the Hawk Conservancy Trust in Andover, Hampshire, but missed the window to migrate to Africa for the winter.
So to catch up with his fellow birds he was put on a regular flight from Birmingham Airport to the Gambia.
Curator Andy Hinton from the trust said there were only 60 to 70 pairs of honey buzzards in the UK.
The birds migrate to Europe to breed in the summer and spend the winter in sub-Saharan Africa to feed on a specialised diet of larvae, honey and bugs.
The juvenile buzzard treated at the trust hospital would have hatched this year and should have set off to fly south in August, not returning to breed in the UK for two years.
Mr Hinton said: "These birds have a very specialised diet and it was inconceivable to keep him in captivity all that time, so we decided to fly him home using modern aviation methods."