Man fined for clamping police cars in Portsmouth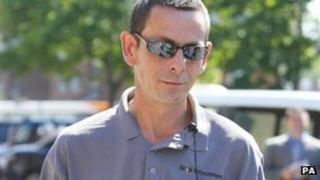 A private wheel clamper from Hampshire has been fined £500 for clamping police cars providing security for a private visit by the Queen to Portsmouth.
Gareth Andrews, 39, of Privett Road, Fareham, was found guilty at Portsmouth Magistrates' Court of wilfully obstructing a police constable.
The cars were parked in the Gunwharf Quays complex before an unannounced visit by the Queen on 25 May.
Andrews refused to remove the clamps after being shown a warrant card.
Colin Shackel, prosecuting, said PC Mark Cox and a second officer, both in plain clothes, were providing protection for the Queen.
She was in Portsmouth to have lunch with NCP car park boss Sir Donald Gosling on his yacht.
The parking spaces allocated for the officers were being used by a delivery lorry, so they parked in adjacent spaces after speaking to security officers, the court heard.
Two clamping vehicles then arrived and Andrews and colleagues proceeded to clamp the police vehicles.
Andrews would not remove the clamps despite being shown a warrant card and speaking to uniformed security guards from Gunwharf, the court heard.
Andrews told the court he had tried to call his firm's control room for authorisation to remove the clamp, and had been prevented from doing so by police.
He said: "I was just doing my job."
Licence renewal ban
Defence lawyer Eileen Sproson said Andrews' marriage of 15 years had broken down since the incident and he had had petrol poured through his letter-box.
She said: "He may not have a job from today."
District Judge Anthony Calloway told the court: "Had an incident occurred, the police would have been unable to respond properly."
At the start of the hearing, Andrews pleaded guilty to a charge of contravening the Private Security Industry Act because he did not display an appropriate licensing badge.
He was fined £500 for the obstruction charge and £250 for the licensing offence and ordered to pay £350 towards prosecution costs, plus a £15 victim surcharge.
The court heard that Andrews would be unable to renew his clamping licence next year as he had contravened the Private Security Act.