Southampton surgeon fears closure of children's heart unit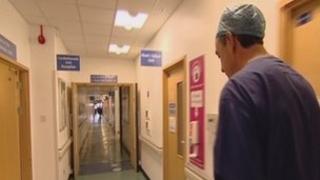 A heart surgeon at Southampton General Hospital has warned against NHS plans to close its children's cardiac unit.
The NHS Safe and Sustainable group is carrying out a review of children's congenital heart services, which aims to create fewer, larger centres.
Five of the 11 units in England, including Southampton, could close.
Surgeon Marcus Haw said it would be detrimental to move the Southampton team elsewhere because the unit had evolved over a long period of time.
Speaking to BBC's Inside Out South, he said: "You can't just send them to different centres all over the country and expect them to perform in the same way.
'Reduced resources'
"This team has taken decades to assemble. It's evolved - it hasn't just been placed - it's evolved over 40 years. It's very difficult to keep everybody together and move them."
After undergoing surgery, young heart patients at Southampton are taken to the hospital's paediatric intensive care unit to begin their recovery.
If the heart unit closes, a number of intensive care beds will also go.
Dr Iain MacIntosh, director of the paediatric intensive care unit, said: "The consequences of the closure of the cardiac unit will mean the resources available to to critically ill children across the south coast will be reduced dramatically.
"This unit has developed over the last 10 or 15 years to be one of the best children's intensive care units in the country.
"It wasn't always here. What will happen is that we will return to a situation that children of the South experienced 10 or 15 years ago - they're very much more likely to be moved to Bristol, London or Birmingham for the care they need."
The NHS Safe and Sustainable group says specialist skills are spread too thinly around the country and the larger, better-performing centres will improve quality of care.
Heart surgeon Leslie Hamilton, vice chairman of the NHS group, said: "Everybody has built up their units over the years with hard work and team work and putting their heart and soul into it and it's understandable people don't want to change that, but everybody is agreed that it's the thing to do, we just need to make those difficult decisions about which units are going to continue doing surgery in the future.
"The problem is, it's not sustainable in the future and that's why we have to change. We have a responsibility to children in the future to take these decisions now."
A decision on whether the heart unit will close is expected by the end of 2011.
You can find out more - including the stories of two young heart patients - by watching Inside Out on BBC One South on Monday at 19:30 GMT.